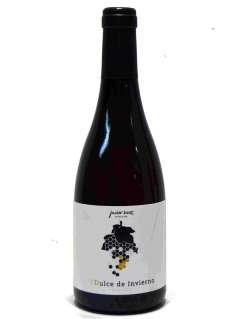 Javier Sanz Dulce de Invierno 50 Cl. White wine
Year: 2015
Winery: Javier Sanz Viticultor
Alcohol: 10 %
Variety: Verdejo wines
Quantity: 50 cl
Winter VDulce is a sweet and unique, wine fruit of miscegenation between the verdejo grape and moscatel. Its sweetness and amber tones are the result of three complex processing stages: the freezing of the grapes, natural drying in a gloomy sobrado and late harvest. After this arduous gestation, he rests eight months in French oak barrels.
Sample a precious gold alive and nose color reflects an amazing variety of aromas of dried apricots, figs, orange peel. In the mouth it is definitely sweet, with a broad and silky body that covers the palate sweetness and elegant and balanced acidity with a subtle reminder of wood.
Served at a temperature of 8 degrees, is great to accompany foie, soft and blue cheeses. It is also recommended to drink it after meals, accompanying desserts with nuts or chocolate.
similar.